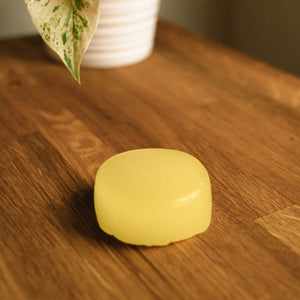 Was it chamomile?
It had no label on the bar I received, and it doesn't seem to be chamomile??? The scent is different than I remember, and so is the way it works with my hair. Can I get a replacement?
Spa day everyday
Really great product! I love the scent especially. It's just enough that you feel relaxed and luxurious, without being the only thing you smell like all day.
Easy to use, and my conditioner bar has lasted 3 months and will probably last another 2.
Bamboo switch are great products!
We are very happy with all the bamboo switch products which include bamboo floss, shampoo bars and conditioner bars. Great products and great sustainable packaging.
Thank you bamboo switch!
Great conditioner bar - curly hair
I switched from traditional shampoo and conditioner to bars sometime during the pandemic. I have extremely curly hair (read multiracial) and these work great for me. I love the chamomile because the scent is not over-powering. These last for close to 6 months for me. But I keep buying more to gift to friends.
---