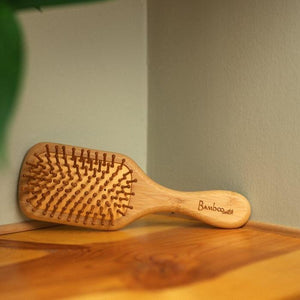 Lovely shop and proprietors…
I love the feel of the brush in my hand and the smoothness of the wood. I thought you should know, though, that the first time I used the brush one of the "bristles?" fell out. That was rather disappointing. Still, I loved your shop and meeting you both!
As promised
I love my bamboo paddle brush. Less pulling of my hair.
facial pads plus container, produce bags, love the shampoo & conditioner (bought for my daughter-...
I love love everything I bought!!!!!
Bamboo Brush
It is an Xmas gift. No review
Good quality
Very soft on my thin wavy hair.