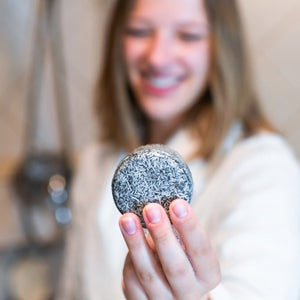 Works Great!
This shampoo works really well. I have long, thick straight-ish hair and this shampoo cleans my hair and it suds easily. I exercise regularly so I wash my hair every other day and one bar of shampoo lasts me about three months (which is the same amount of time with my old bottled shampoo). I also think it has a good price. I have tried other, more expensive bar shampoos and they were not as good as this one. I also feel happy to support an eco-friendly brand and I highly recommend!!
Spectacular!
I just used it for 4 days in a row on a roadtrip to a very humid climate and my hair felt wonderful and was very manageable and easy to style!
Shampoo bar
Love it. My hair feels SO clean after using it!
Shampoo/conditioner bars
This was my first time trying this product. It definitely worked well. Convinced me to make the switch!! Going to try the toothpaste next!! Already love the floss!!