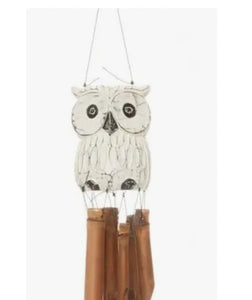 Owl bamboo wind chime
I love my owl bamboo wind chime that I bought at the state fair. It makes a beautiful and peaceful noise and sways nicely in the wind. It's a great addition to my front porch.
Perfect for our space
Very nice addition to our porch. The chimes are low in volume therefore not obtrusive to listen to but rather a nice subtle chorus. We have a northern barred owl or two who live in the trees down the road and we purchased this design in respect to them.