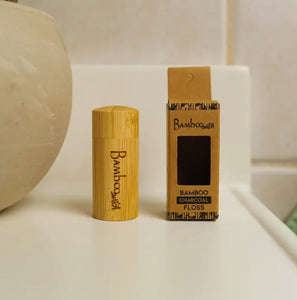 Bamboo charcoal floss
I love this floss. It's less smooth than the plastic floss, so it actually gets more gunk faster. Plus the color contrast with the teeth makes flossing very rewarding because you see the gunk the floss gets. My 9 year old actually enjoys flossing with this floss. He swears the plastic floss hurts his hands and this doesn't. And of course it's compostable, so it's much less bad for the planet. Many wins.
Love it!!
Not only is the container plastic free, but the design is adorable and fits perfectly in my medicine cabinet. The hole where the string comes out is vey close to the cutter so I leave a little slack when cutting the string to make it easier to grasp
Bamboo floss container & charcoal floss
The bamboo container is small, attractive, and does not take up much counter space. The floss is impressive in that it does not break while flossing. Will be reordering.
In Love
The container is gorgeous and the floss is affordable and works great. Highly recommend.
Great Stocking Stuffer!
Just bought a bunch of these to give as gifts for this holiday season. Great price. Container is beautiful, lightweight and refillable. Floss works great, so much better than the plastic stuff. I like the minimal packaging. Great for the environment. Highly recommend.